Why Atlanta Is Essential to the American Art Scene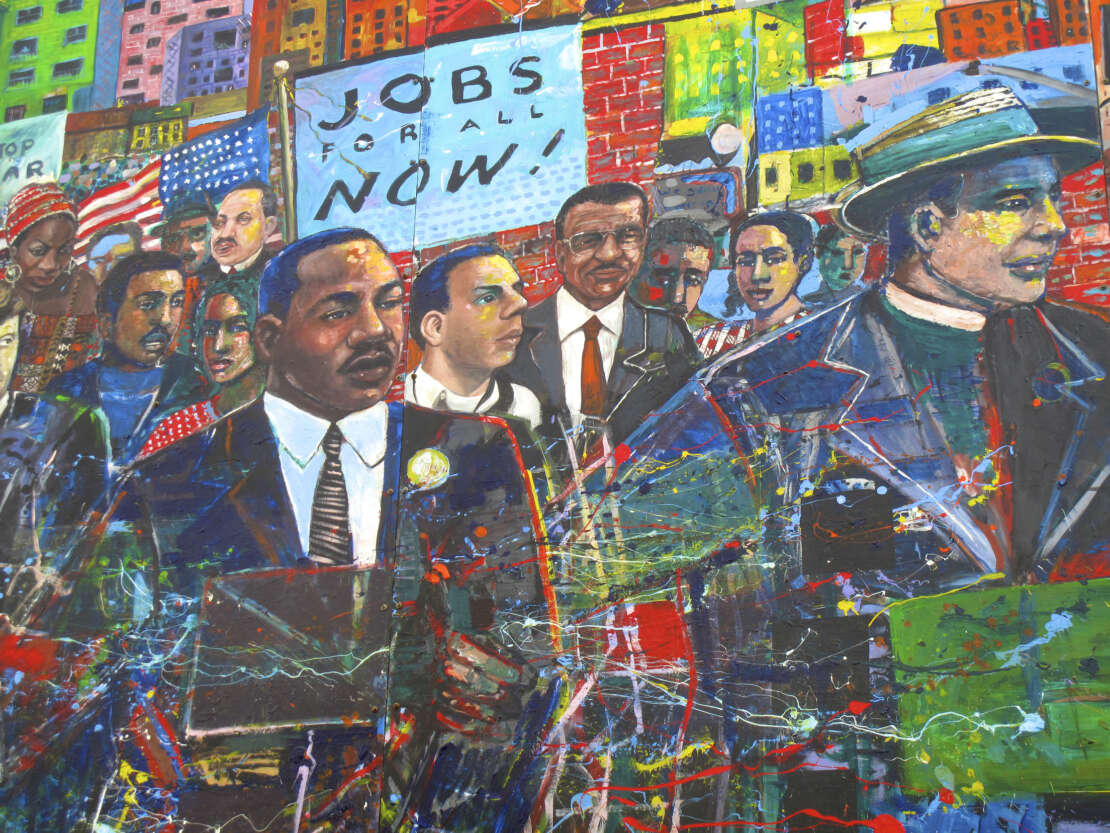 Atlanta's art culture is an explosion of ingrained history, contemporary political discourse, vital discussions of race, and blossoming cultural industries. In 2021, Andy Battaglia of ARTnews called the Peach State's capital "the sprawling hub of the evolving modern South," and if anything, he might've been understating it. Here are five reasons why that title is absolutely earned, and what you should know about Atlanta's thriving art scene.
It's Powered by the Black Community
As of 2021, 52% of Atlanta's population is African American, and that identity crucially informs Atlantan art. Inseparable from the city's character and from the art it expresses are its histories of revolt against systemic racial inequity, spanning historic moments like the American Civil Rights Movement of Atlanta-born Dr. Martin Luther King, Jr., to ongoing battles for voting rights spearheaded by Fair Fight founder Stacey Abrams and well beyond. So much does the Black community inform Atlanta's artistic landscape, Black & Abroad founder Kent Johnson tells Discover Atlanta that "Atlanta's Black art scene is one of the best in the country."
It Leads by Example
High Museum photography curator Sarah Kennel tells Atlanta Magazine, "The historic shift in politics that we witnessed here really suggests that this is a place where a lot of different people are trying to find a way to live together, which could be a model for this country."
Nowhere is this more evident than in the burgeoning creative community in Atlanta. As the city grows and changes, more artists are drawn to Atlanta and more local talent is staying put. The cultural institutions of Atlanta reflect the city's status as a pacesetter for how metropolitan centers can fold regional art and emerging artists into a booming creative economy.
The Spaces are Iconic
Don't look for a gallery district in Atlanta — the art scene suffuses the city. Museums, co-ops, and nonprofits dot the city along with private galleries, hybrid venues, and miles of street art. These spaces range from enduring institutions to ephemeral pop-ups. Here are just a few never-miss recommendations:

High Museum of Art
Established in 1905, the High Museum centers on folk and self-taught art, a focus that perfectly aligns with Atlanta's ethos. Photography is a highlight here, with 7,000 photo prints among a total collection of more than 18,000 permanent pieces.

ZuCot Gallery
ZuCot's exhibitions speak strongly to the black experience, with more than 95% of its works created by black artists. The biggest African American fine arts gallery in the southeastern United States is right here on Centennial Olympic Park Drive.

The Spelman College Museum of Fine Art
Spelman is a staple of Atlanta's community, and since 1996 the college's museum has reflected that. Focusing on works that spotlight the local art community, the Spelman Museum's collection dates back to the 1930s and often highlights works by black women artists.

MINT Gallery
This nonprofit art space thrives on community, focusing on diverse local artists who slide under the radar of the larger institutions. In addition to offering ongoing exhibitions, MINT offers mentorships, educational opportunities and affordable studio spaces for Atlanta artists.

Poem88
In terms of private galleries, Robin Bernat's Poem88 is unmissable, and comes recommended by Hyperallergic. For more than a decade, Poem88 has curated selections of work by emerging and mid-career artists. In 2021, roughly 68% of the gallery's represented artists were women, and 42% of them were over the age of 50.
The Street Art Is Dynamic
Atlanta walls are bursting with creative cultural expression from local artists, some of which might not have a platform in the aforementioned spaces — so they've made their own. Nowhere is that more apparent than at the Krog Street Tunnel, where socially charged graffiti in a constant state of energetic flux splashes across every wall and concrete pillar. Krog Street isn't alone, though; the Forward Warrior annual mural series in Cabbagetown offers a more curated street art experience, while a stroll through East Atlanta Village showcases an eclectic combo of sanctioned murals and graffiti.
As for specific works, Let's Roam suggests The Loss Prevention's large-scale portrait of John Lewis at Auburn and Piedmont in downtown, the rotating Stacks Squares Mural Project in Cabbagetown, Atlanta-local HENSE's "Untitled" off the Eastside BeltLine Trail under the Virginia Avenue Bridge, and Yoyo Ferro's "Vaso de Flores" in Grant Park.
You Can Play a Part
One of the most exciting things about an art community on the rise is that when you participate in that community, you can have a real, appreciable impact. That's especially true in the South, where the arts are chronically under-funded, with Georgia — despite its capital's flourishing art community — often ranking near the bottom of grants for public art. Be a part of change for the better by doing the following:
Donating to philanthropic organizations like the Community Foundation for Greater Atlanta, the Metropolitan Atlanta Arts Fund, the Atlanta Artist Relief Fund, the #AboveFour campaign, or the Atlanta Taskforce for Philanthropic Reparations

Visiting, donating and purchasing from local museums, galleries, co-ops and art fairs

Participating in events like the Inman Park's Arts & Crafts Market, the Living Walls project or performances at the Atlanta Children's Theatre Company

Taking classes from local artists (CBS Local Atlanta recommends those at the nonprofit Atlanta Celebrates Photography, for instance)

Becoming a member at museums such as the Museum of Contemporary Art of Georgia, the High Museum of Art or the Hammonds House Museum

Purchasing art by Atlanta artists
Can't make it to Atlanta just yet? You can still be a patron by purchasing local art from the online storefronts of Atlanta artists, or even just by checking them out and sharing their works and names. Wussy magazine's Jon Dean makes these recommendations: Savana Ogburn, Davion Alston, Jesse Pratt López, Patrick di Rito, Nicholas Goodly.

-
Alongside experience as a graphic designer and on-set art director, Dan Ketchum is a northeast-LA-based culture, media and food writer of 12 years, with publishers including Ashford University, Salon.com, The Seattle Times and USA Today.
---